Details of Resolved Problems
Such problems are best illustrated in an g'-r'-i' colour composite of the parent (in the top left corner). In both cases the images are stretched from 0 : 150 sigma using a sqrt map; this brings out faint features which have essentially no impact on the photometry.
A Bad Deblend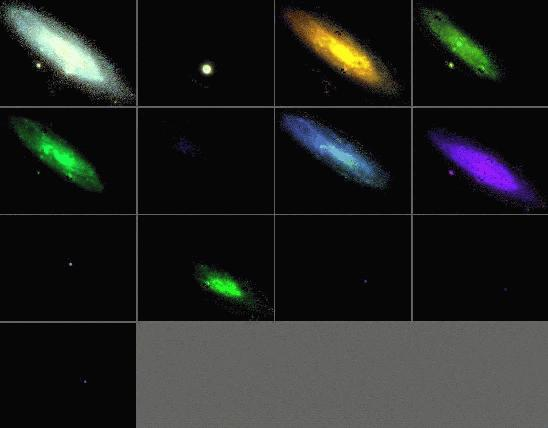 The v5_2_14 deblend of an r' ~ 11.3 galaxy with an r' ~ 13 (slightly saturated) star. Note that the flux is allocated to different children in wildly inconsistent ways.
---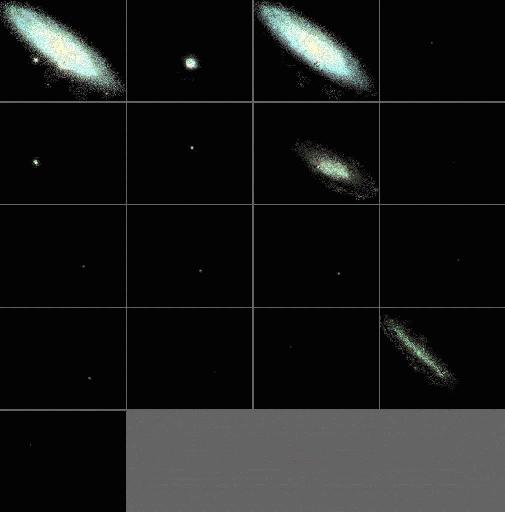 The v5_3 deblend of the same system. All children have `astrophysical' colours (the removal of a part of the lower-left corner of the galaxy into a separate child is a result of this galaxy touching the edge of the chip).
The principal child has:

                   u'           g'           r'           i'           z'
psfMag:            18.02        16.53        16.36        16.55        17.55 
psfColour:                1.49         0.17         -0.19        -1.00       
modelMag:          13.48        11.81        11.71        11.97        13.26 
petroMag:          13.78        11.95        11.88        12.20        13.65 

A more typical case
This is not the typical behaviour; for example, out of 26 Zwicky galaxies lying in the `testbed' area of runs 745/756, the only one that shows problems (in both v5_2 and v5_3) has a saturated r' ~ 11.9 star 5" from the centre of a spiral

One of the other Zwicky galaxies in this area of the sky is shown here:
---
v5_2_14
---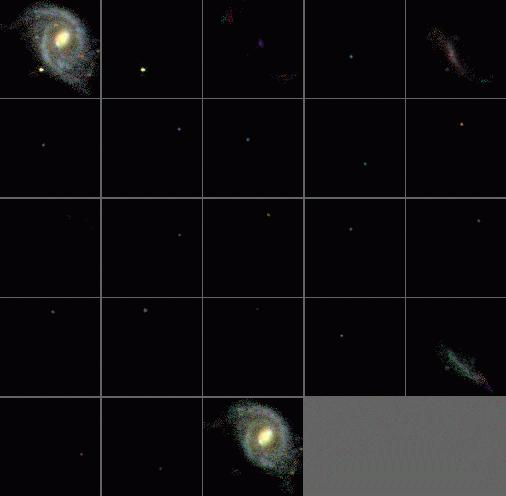 v5_3

                    u'           g'           r'           i'           z'
psfMag:             19.17        17.34        16.53        15.90        15.57 
modelMag:           17.01        15.40        14.61        14.06        13.60 
petroMag:           16.48        14.54        13.92        13.63        13.99