---
Reference:
Brio, M. & C.C. Wu, "An Upwind Differencing Scheme for the Equations of Ideal Magnetohydrodynamics", Journal of Computational Physics, 75, 400-422 (1988). The test is described in Section V.
---
Description:
This test is an MHD shocktube, where the right and left states are initalized to different values. The left state is initialized as (ρ, vx, vy, vz, By, Bz, p) = [1,0,0,1,0,1] and the right state [0.125,0,0,-1,0,0.1]. Bx=0.75 and γ = 2. The hydrodynamic portion of the initial conditions are the same as for the Sod shock tube problem.
---
What's important about this test?
This example tests whether the code can accurately represent the shocks, rarefactions, contact discontinuities, and the compound structures of MHD. The test is now a standard for MHD codes.
---
Results:
Results computed with Athena using the second order Roe solver with 400 grid points (squares) and 10,000 grid points (solid line). The plot shows from left to right: a fast rarefaction, a slow compound wave, a contact discontinuity, a slow shock, and a fast rarefaction wave. These results can be compared to Fig. 2 in the reference.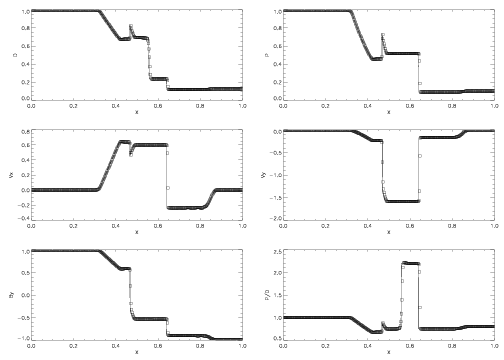 Page by Ian Parrish, February 2004.