See my work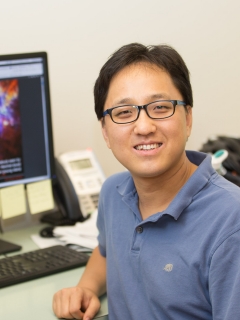 The coming years will be an exhilarating time in astronomy. New telescopes with high sensitivity (e.g., GMT, TMT, JWST, SKA) and wide field of view (e.g., LSST, WFIRST) will be built and operate soon. These observatories will deliver unprecedented details of light from stars and gas in, around, and outside of galaxies. For theorists, providing a physical understanding of such detailed observations will be a challenging endeavor.
My research interests have centered on physics of interstellar medium (ISM) and star formation (SF). The most fundamental questions of this research field would be how do stars form? and what shapes the ISM? These are tightly connected questions because stars are born in the ISM that maintains turbulence and multiple thermal phases by gaining energy and momentum from stellar feedback. However, due to the lack of computing power and efficient numerical methods, it has been a common practice to model one process in detail, while the other is held fixed. This approach disconnects the connected system and limits the predictive power of such models. The primary accomplishment I have achieved recently is the development of a numerical framework (called TIGRESS) that models the star-forming ISM with self-consistent treatments of star formation, stellar feedback, and ISM physics. The TIGRESS simulation facilitates quantitative predictions to essential properties of the star-forming ISM, such as turbulence characteristics, thermal phase balance, star formation rates, and multiphase outflow properties.
Similarly, a fundamental question in the field of galaxy formation, how do galaxies form and evolve? cannot be answered without a deep understanding of larger and smaller scale physics. Large-scale structure of dark matter guides baryonic matter to assemble, and small-scale energetic feedback from massive young stars and black holes shapes galaxies that we see. Significant progress has been made by running cosmological N-body simulations from well-defined initial conditions informed by the standard LambdaCDM cosmology, establishing the hierarchical structure formation paradigm. The overarching research theme in this field now is to make progress toward the non-linear regime where small-scale baryonic physics plays a crucial role. Because of limited computational resources, baryonic processes are often included as subgrid models by adopting or tuning prescriptions to match specific empirical relationships. Again, the predictive power of such models is significantly limited.
The overarching goal of my current research is to improve our understanding of ISM/SF physics and propagate it to galaxy formation theory, and vice versa. The TIGRESS simulation suite I recently developed positions me ideally for developing new physics-based subgrid models for small-scale ISM/SF/feedback processes. The successful development of new subgrid models will make immediate progress on new galaxy formation theory with full prediction power. I will pursue further improvements to the current simulation suite by employing additional capabilities of the new Athena++ code, including mesh-refinement feature and molecular chemistry, radiation, and cosmic ray modules. Synthetic observations constructed from new simulations will be used to test numerical simulations and unveil underlying physics of complex observations. Completion of all objectives listed above will bring comprehensive knowledge about fully nonlinear, multi-scale, multi-physics phenomena of the Universe within reach.
---
TIGRESS: Three-phase ISM in Galaxies Resolving Evolution with Star formation and Supernova Feedback
Kim & Ostriker, 2017, ApJ, 846, 133
---
Superbubble driven by multiple SNe
Kim, Ostriker, & Raileanu 2017, ApJ, 834, 25
---
Core in MB10
Kim & Ostriker 2015b, ApJ, 815, 67
---
Supernova Remant in the Two-phase ISM
Kim & Ostriker 2015a, ApJ, 802, 99