Chang-Goo Kim
Associate Research Scholar Department of Astrophysical Sciences Princeton University CV
See my work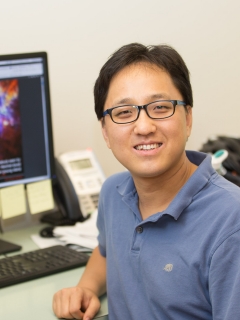 The goal of my research is to advance understanding of star formation (SF) and its feedback on all scales. SF does not simply occur in a quiescent gaseous medium, and the interstellar medium (ISM) does not passively evolve with energy and momentum injection from stars. Stars and the ISM communicate with each other via gravity and energetic feedback processes nonlinearly, regulating SF rates (SFRs) and ISM properties, such as turbulence and multiphase thermal structure, simultaneously. Such nonlinear coupling occurs on a wide range of spatial and temporal scales from star forming cores and clouds to the diffuse ISM and galactic disks to entire galaxies. In order to achieve the high level of realism and predictive power required to connect to observations, state-of-the-art numerical simulations are needed. For this reason, although this research field is a classical part of astrophysics, many fundamental questions remain unanswered (e.g., McKee & Ostriker 2007). At the same time, tremendous improvement made by detailed multi-wavelength observations of SF on all scales raises new questions (e.g., Kennicutt & Evans 2012). The study of SF/ISM also has significant impacts on other fields of astrophysics, such as galaxy formation and cosmology (e.g., Somerville & Davé 2015).
My research focuses on fundamental questions of SF on two different scales:
The ISM within Galaxies: What determines galactic SFRs? What shapes thermal phases and drives turbulence in the ISM? Which feedback process is dominant? What sets observational correlations between SFRs and local galactic properties? How do they depend on scales, observational tracers, and global galactic properties?
Galaxies in Isolation and Clusters: How well is stellar feedback able to drive galactic winds and shape the galaxy stellar mass function? What are mass loading factors of multiphase winds? How do large scale gas flows affect galactic SF, and vice versa? What are the mass, volume, and metal distributions of the circumgalactic and intergalactic media (CGM and IGM, respectively)?
I am taking a bottom-up approach to tackle these questions. I will first conduct local simulations, where I can achieve high enough resolution to resolve detailed physical processes of SF and feedback. Then, I will perform global simulations for isolated galaxies to understand the effects of stellar feedback on larger scales. The local simulations will serve as a reference to calibrate sub-grid models for stellar feedback to be used in the global simulations. Eventually, cosmological zoom-in simulations will be carried out in collaboration with galaxy formation experts using the improved sub-grid models.
This research will make use of state-of-the-art MHD codes and high performance computers. The technical part of my research will include code development to improve existing codes by adding physical modules. I am currently developing a self-gravity solver for the new MHD code with adaptive mesh refinement, Athena++, developed by Prof. Jim Stone and colleagues at Princeton University. In addition, I will develop tools to construct synthetic observations such as CO, HCN lines from molecular gas, HI 21cm lines from neutral hydrogen, highly ionized forbidden lines from warm-hot ionized medium, X-rays from hot gas, as well as polarized dust emission. The proposed simulations with self-consistent treatment of SF and feedback will produce invaluable datasets for many aspects of research on the ISM, CGM, and IGM. Synthetic observations will provide clear interpretation of observations, unveil the underlying physics buried in the observed correlations, and serve as testbeds for observational diagnostics built upon simple assumptions.
---
TIGRESS: Three-phase ISM in Galaxies Resolving Evolution with Star formation and Supernova Feedback
Kim & Ostriker, ApJ submitted
---
Superbubble driven by multiple SNe
Kim, Ostriker, & Raileanu 2016, ApJ, 834, 1
---
Core in MB10
Kim & Ostriker 2015b, ApJ, 815, 67
---
Supernova Remant in the Two-phase ISM
Kim & Ostriker 2015a, ApJ, 802, 99